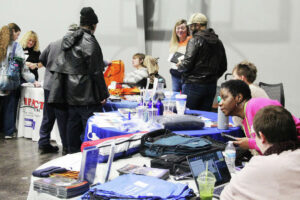 Photo:
People line up for various services from government agencies, nonprofits, and other organizations during Homeless Connect, held Saturday at River of Life Church in Alton. Multiple agencies and nonprofits provide everything from health screenings to help with transportation for the homeless or those trying to avoid homelessness. Prior to COVID, it was an annual event, and this was the first held since 2019. IMPACT CIL ILS-Specialists Angela Botz and Wendy Settles are shown here with the outreach booth.
IMPACT CIL is continuing to serve our community and individuals with disabilities. IMPACT CIL Staff are in the office Mondays-Thursdays with a remote work day on Friday. Individuals are seen by appointment only and safety measures of wearing masks and temperature checks continue to be practiced. If you have a question or wish to schedule an appointment, please call us at 618-462-1411. We are here to serve you. Check out IMPACT CIL Facebook page and be sure to like our page and follow us on Facebook to see updated posts and photos of all matters regarding IMPACT CIL and the community!
IMPACT CIL
IMPACT Center for Independent Living is one of the 22 Centers for Independent Living (CILs) in Illinois. IMPACT exists to help people with disabilities achieve maximum independence in work, school, housing ad every part of life and participate fully and equally in their communities.
IMPACT CIL is grateful to continue to be part of a network of over 160 organizations in partnership with United Way of Greater St. Louis for 2023! As a safety net agency, we will be able to further our mission, strengthening the community and lives of our neighbors. Thank you to the entire Greater STL region for generously supporting agencies like ours during the annual United Way campaign, strengthening lasting changes in our community, and embracing our mission. Because of you, we will be able to continue #HelpingHere.